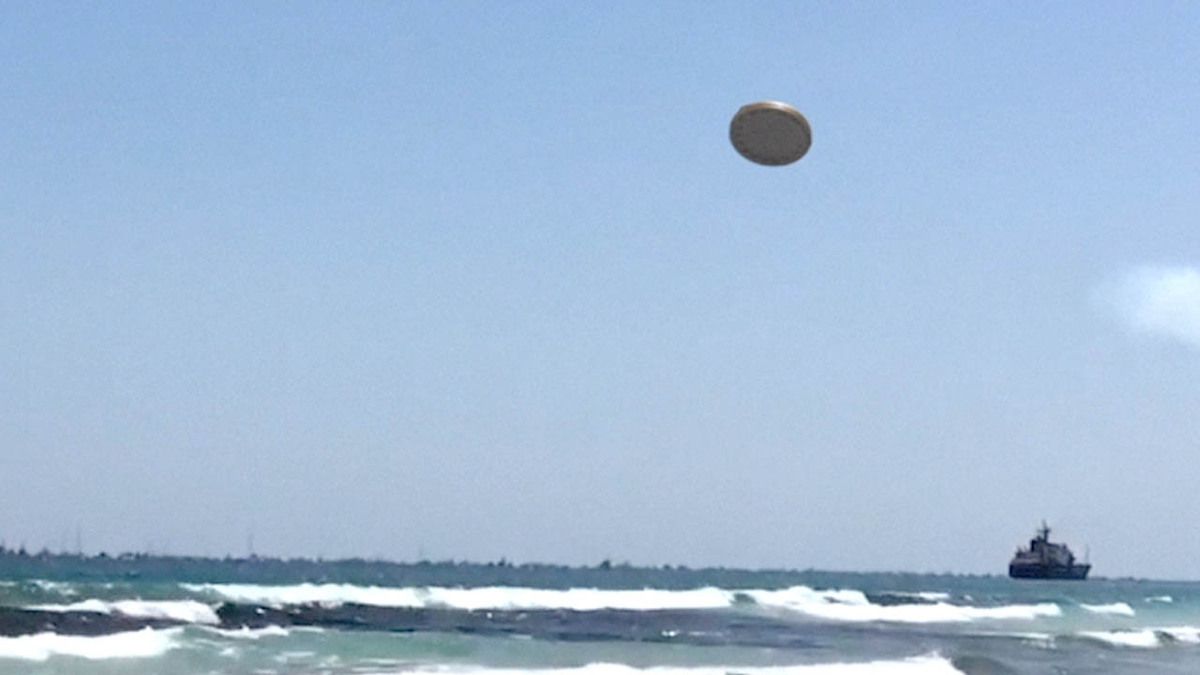 May 2016 - South Africa, Ramsgate Beach. Amazing video footage showing 2 disc-shaped UFO passing over people on the beach during daytime.
Watch the VIDEO HERE !
UFO History in South Africa since year 2000
On 27 June 2004, Roshnie Naidu observed and video-taped a very bright, colourful light that was suspended near her home in Durban for 3 hours. She was able to alert family members and neighbours to its presence, and observed it changing shape from circular to oval.
In 2009 two formations of high-flying, orange-red objects, were seen by many witnesses, and video-recorded by some, as they travelled between the towns of Middelburg and Witbank, 25 kilometres (16 mi) apart. The first formation of 7 objects were seen at 21:51 on 27 February, as they flew westwards from Middelburg towards Witbank. Due to their altitude they eventually disappeared behind clouds. At 20:00 on 6 March, they were noted again high in the sky, but this time greater in number, 23, and traveling in the opposite direction.
On the evenings of 21 and 22 July 2010, residents of Booysens, Pretoria, observed a triangle of bright lights which hung motionless in the sky for two hours. In each instance the object commenced a slow descent towards the horizon at 20:30. Binocular observation revealed nothing more than a blue and emerald light, with a white light which shone straight downwards.
On the evenings of 11, 20 and 21 May 2011, a host of silent, orange lights with consistent luminosity were observed as they travelled faster than a commercial aeroplane over Tierpoort near Pretoria (some 20 objects) and Krugersdorp respectively. On 15 June seven of these objects were observed and some photographed as they crossed the sky in single file over Tierpoort. At 22:00 on 30 October 2011, a Mr van Greuning photographed two of the five silent fireballs which he observed traveling southwards in low cloud near the town of Harrismith.
A reported UFO was spotted in Cape Town on the evening of 28 November 2015. Social media was abuzz with various reports of what seemed to be a green light over the city.
Subscribe to Section 51 ! Thank you.
Join the official Facebook page and talk about us :
http://www.facebook.com/UFOatSection51