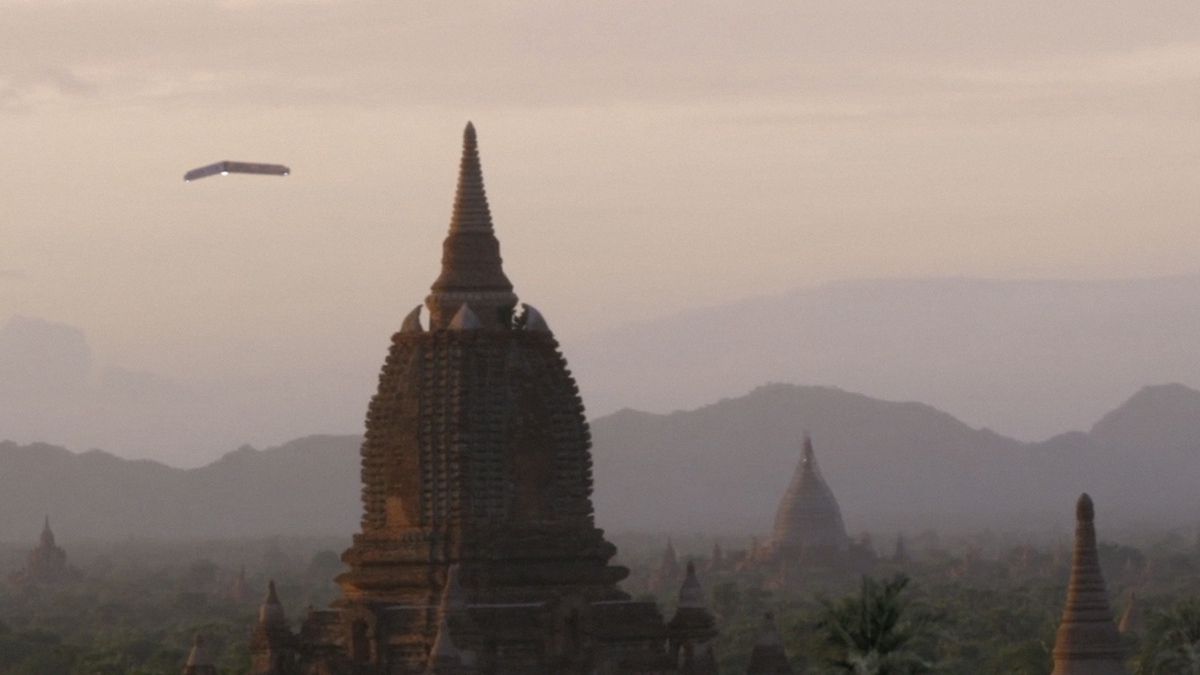 March 2016 - Myanmar, Burma. People filmed mysterious triangular UFO with glowing lights hovering over temple during several minutes.
Watch the VIDEO HERE !
Black triangles are a class of unidentified flying objects, or UFOs, with certain common features which have reportedly been observed during the 20th and 21st centuries. Media reports of black triangles originally came from the United States and United Kingdom.
Reports generally describe this class of UFOs as large, silent, black triangular objects hovering or slowly cruising at low altitudes over cities and highways. Sightings usually take place at night. These objects are often described as having pulsing colored lights that appear at each corner of the triangle.
Black triangle UFOs have been reported to be visible to radar, as was the case with the famous Belgian UFO wave. During these incidents, two Belgian F-16s attempted to intercept the objects (getting a successful missile lock at two occasions) only to be outmaneuvered; a key conclusion of the Project Condign report was that no attempt should be made on the part of civilian or RAF Air Defence aircraft to outmaneuver these objects except to place them astern to mitigate the risk of collision.
The reports state : "Occasionally and perhaps exceptionally, it seems that a field with, as yet, undetermined characteristics, can exist between certain charged buoyant objects in loose formation, such that, depending on the viewing aspect, the intervening space between them forms an area (viewed as a shape, often triangular) from which the reflection of light does not occur. This is a key finding in the attribution of what have frequently been reported as black 'craft,' often triangular and even up to hundreds of feet in length." These plasma formations also have the effect through "magnetic, electric or electromagnetic (or even unknown field), appears to emanate from some of the buoyant charged masses. Local fields of this type have been medically proven to cause responses in the temporal lobes of the human brain.
Recently un-redacted sections of the report state that Russian, Former Soviet Republics, and Chinese authorities have made a co-ordinated effort to understand the UAP topic and that Russian investigators have measured (or at least detected) 'fields' which are reported to have caused human effects when they are located close to the phenomena. According to the Ministry of Defence researchers, Russian scientists have connected their UAP work with plasmas and the wider potential use of plasmas and may have done "considerably more work (than is evident from open sources)" on military applications, for example using UAP-type radiated fields to affect humans, and the possibility of producing and launching plasmas as decoys.